Kayce Barnett
President
Kayce began volunteering for GVAWL in 2014 as a dog foster and since that time, she has been a foster parent to cats and dogs, supervised adoption hours, managed social media and the website, had multiple foster fails, and later joined the Board in 2022. In 2016, Kayce was managing adoption hours when her now fiance came in to adopt a dog. She approved the adoption and six months later accepted a date from the handsome adopter and has been with him ever since. Together the couple enjoys hiking, camping, quad riding, travelling, volunteering for GVAWL and spending time with their dog Cooper and their three GVAWL rescues: Oliver (dog), Remi (dog), and Pork Chop (cat).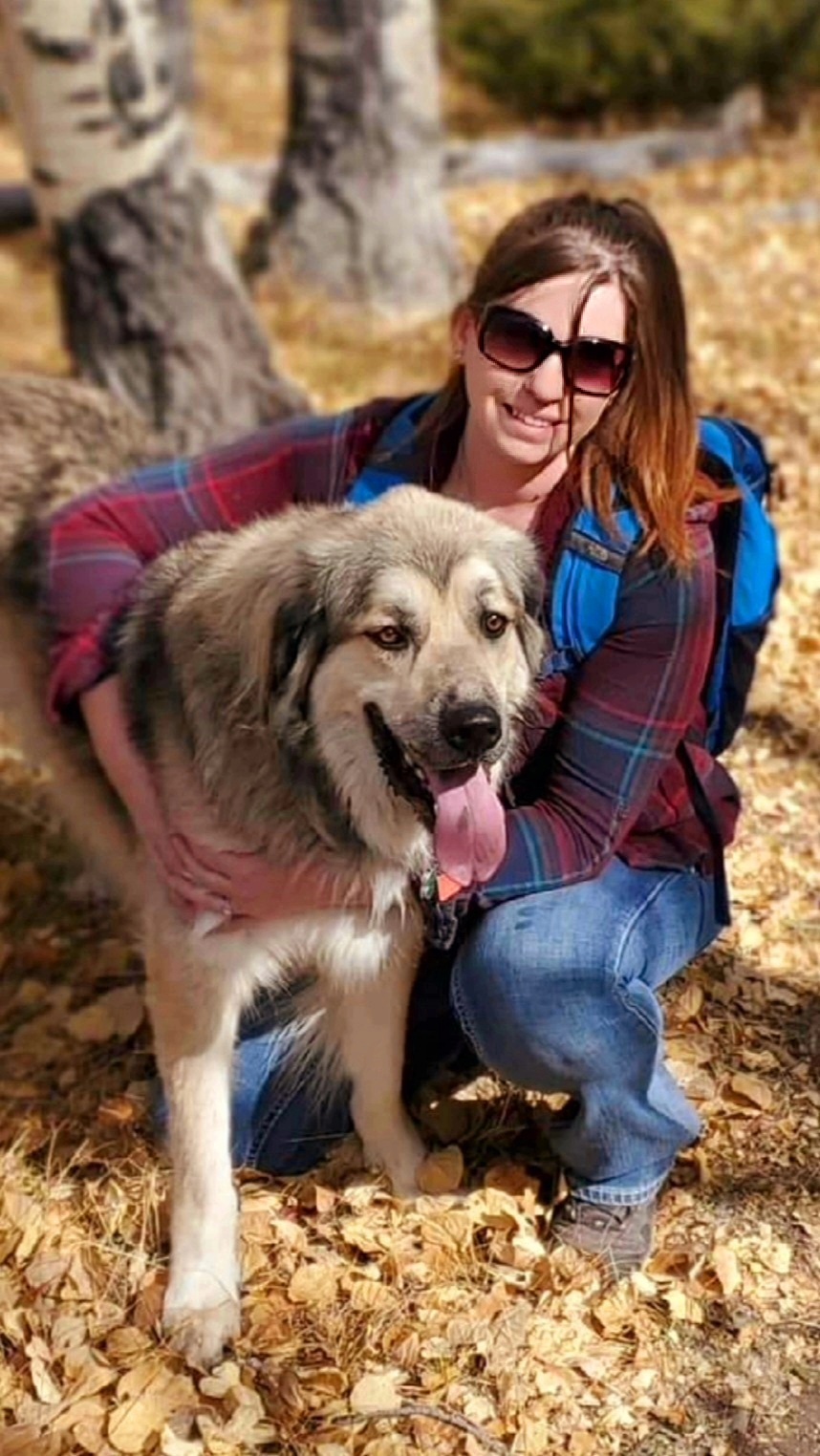 Kristina Hulet
Vice President
Kristina came to the Gunnison Valley as a child and never left. Spending her childhood at her grandparents' ranch, she knew from a young age that life was just better with animals around. Once she completed high school, Kristina started her veterinary technician career, and continued that path for an additional 15 years here in the Valley. She enjoys spending time with her husband, Chris and three children, as well as her dog Otis and two rescue dogs Jake and Anna and two kittens from GVAWL, Lulu and Frederick. Kristina is now the VoIP Specialist at Visionary Broadband here in Gunnison and is glad to be back to work in the animal community as a board member.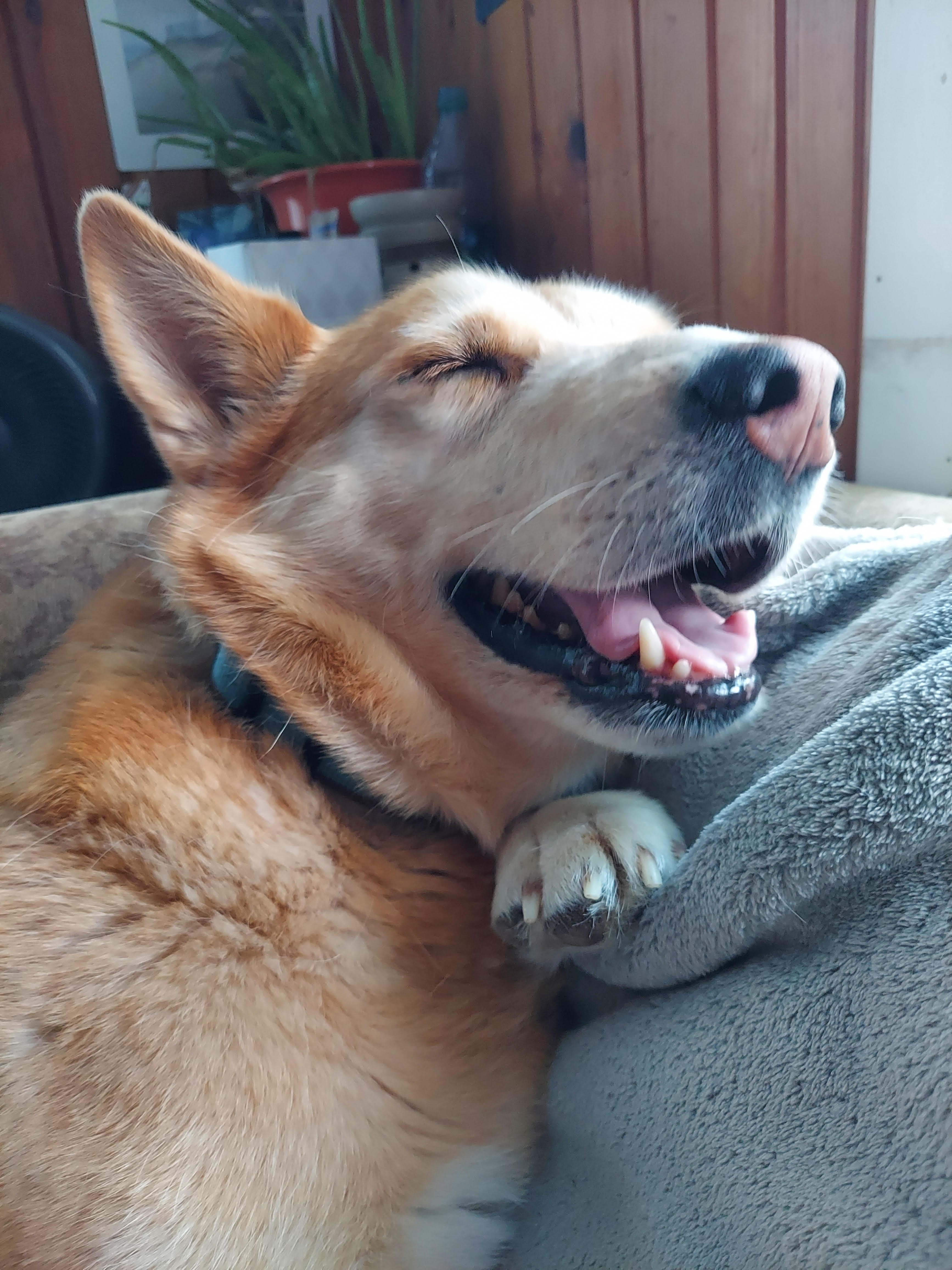 Kellie Cheever
Secretary
Gunnison is Kellie's hometown where she grew up hearing about GVAWL and the wonderful work they do for the community. Though she's moved around the state her love for animals has never changed. She can't remember a time where there wasn't a pet in the household, whether hers or not.
Kellie has been back in the Gunnison Valley for the last several years and lives with her dog Echo (pictured). When they aren't at work, they're spending time with family, relaxing (which consist of Kellie reading and Echo staring at her), or going on the occasional hike where Echo likes to steal sandwiches.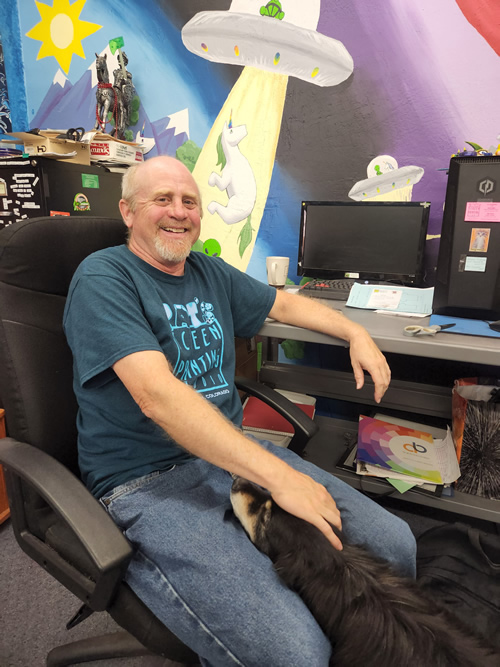 TL Livermore
Treasurer
TL, who has been in Gunnison not quite 55 years, can't remember a time in his life when there wasn't a dog in it, including recent adoptee Bear. A big believer in recycled pets, he is pleased to support GVAWL's mission of providing a caring, supportive place for companion animals as they await their fur-ever homes.
Owner of Pat's Screen Printing for the last 22 years, TL has also been a journalist, bookseller, airport ramp worker and adjunct lecturer at Western Then State Then College. In addition to Bear, he lives with GVAWL foundling cats Marrakesh and Na Ki'o and his wife Lynn, who was found in Wisconsin.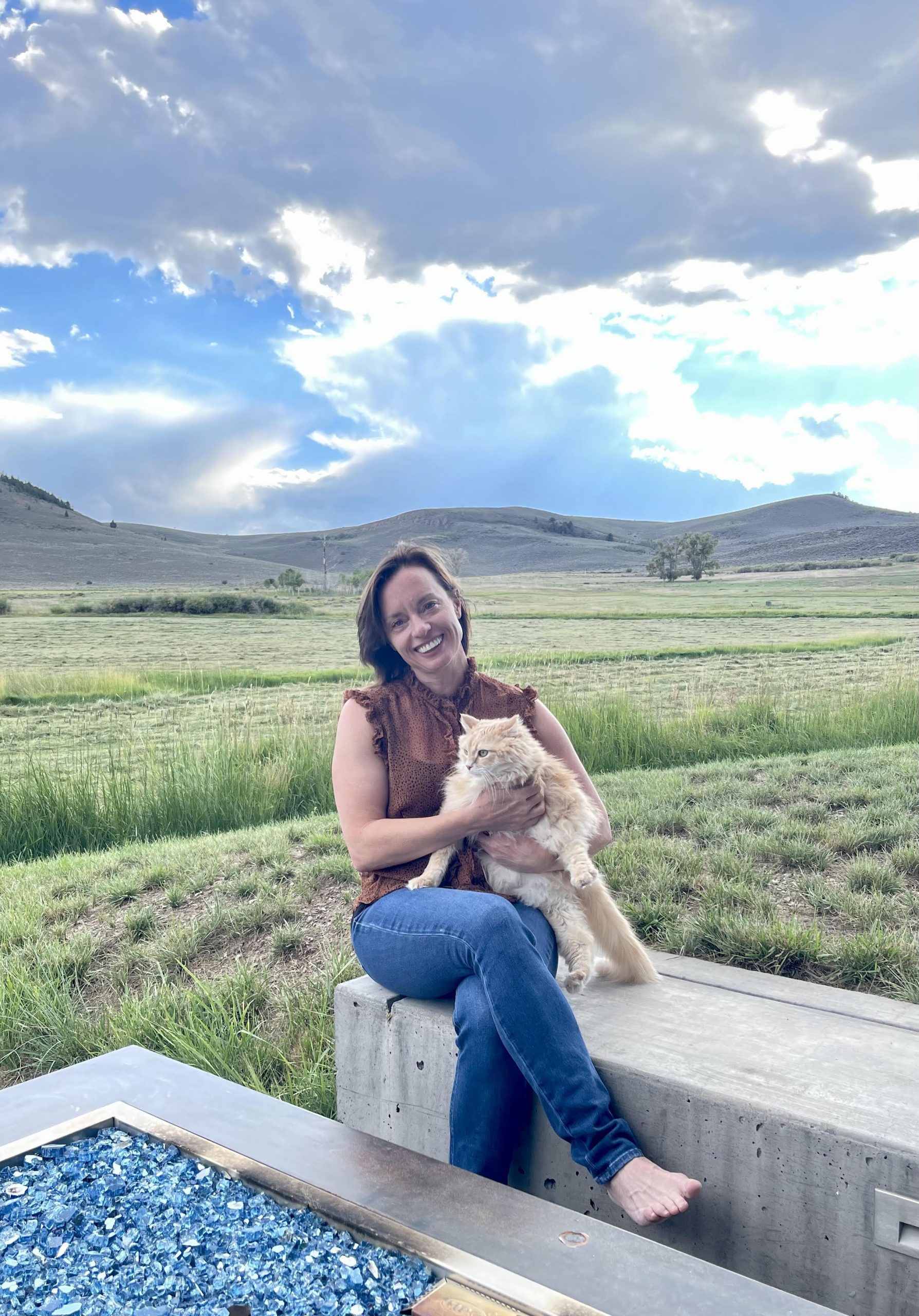 Paula Mann
Board Member
Paula arrived in Gunnison from the west coast in late 2016 with her husband, one dog, and 14 rescue cats! She started volunteering at the shelter shortly thereafter and became a member of the Board in 2019. Paula is active in the community, and divides her time between her CPA practice, teaching at Western, and various volunteer activities.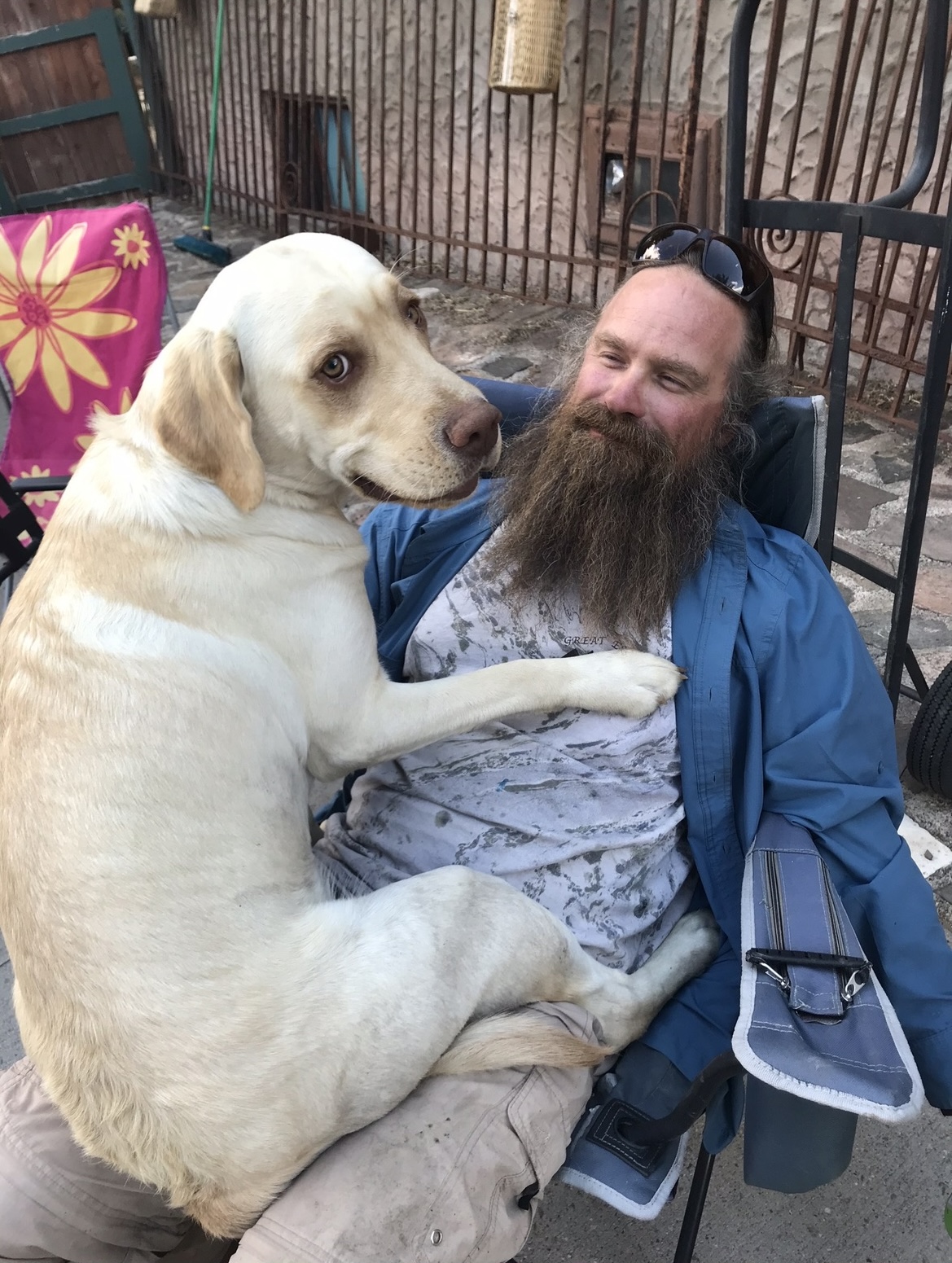 Grace Thurlow
Board Member
Grace moved to Gunnison in 2022 and works at the Gunnison Arts Center as their Director of Development, previously working in fundraising on the Front Range of Colorado. Grace is a skilled fundraiser, receiving her master's degree in Animal Non-Profit Management with an emphasis in fundraising and event planning from Colorado State University. Grace has helped a variety of animal organizations in their fundraising efforts by establishing strong donor relationships, planning fundraising events, writing grants, and much more. In addition to Grace's fundraising expertise, Grace worked as a companion animal behavior consultant helping clients both locally and nationally with their pet behavior problems and was featured in The Dodo, an internationally known animal media source. In Grace's free time, she enjoys hiking, wildlife photography, and spending time with her four cats, one dog, and one bearded dragon. Grace is passionate about providing the best possible care and support for animals and their families and is thrilled to help GVAWL continue to grow and thrive.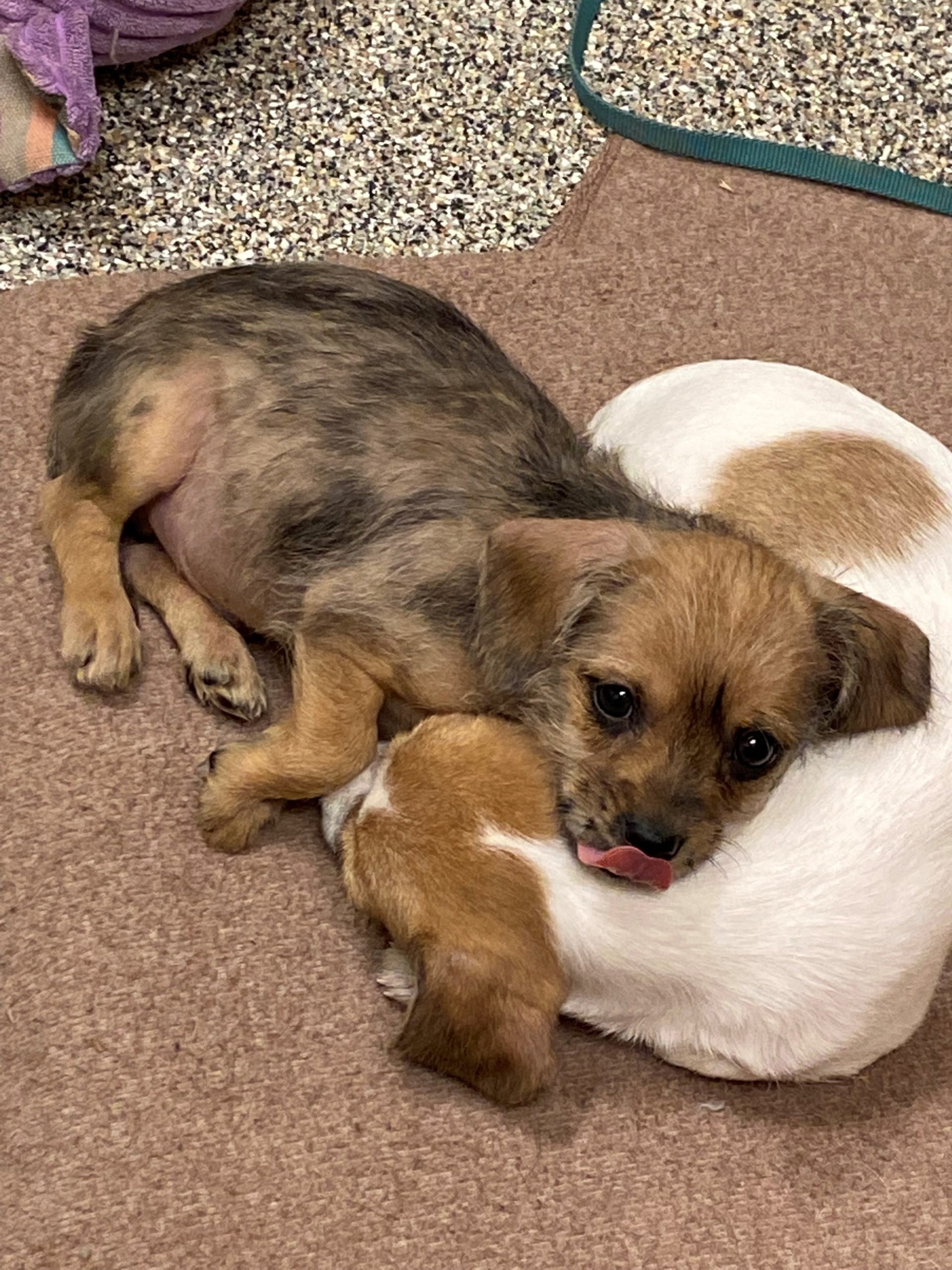 Tamara Spezze
Shelter Manager – Non Board Member
Tamara, our Shelter Manager, has lived in Gunnison for 15 years, with her family and 5 horses, 3 goats, chickens, 3 dogs and 2 cats. She has a degree in Wildlife Management and has worked in the wildlife field as well as built and managed a dog and cat boarding kennel. When she isn't enjoying her time at the shelter, she loves to horseback in the high country with her husband and Aussie Whiskey.
Tamara and her team of volunteers are committed to giving the best care to our shelter animals during their stay. She feels strongly that spaying/neutering your pet prevents unwanted litters. It can also protect against some cancers and may reduce many behavioral problems associated with the mating instinct. She also supports our community through education, sharing GVAWL resources and attending local events.